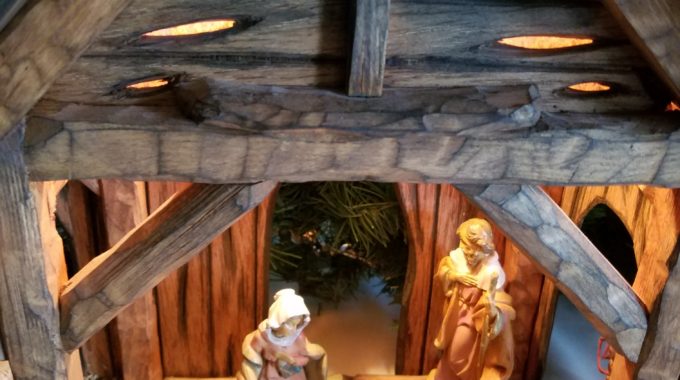 I am wondering… have you ever been "awakened" by a new thought or some understanding that has been in front of your face forever and today, this day.. you "get it" in a whole new way??
Well, here we are in the midst of another Christmas season…doesn't LOOK a whole lot different than last year, Oh, there are new changes taking place around the world, with crazy weather, political upheaval on many levels etc. etc. etc., but truly what makes this season different?
Here's what is happening to me…as I have been wondering about "next steps" and desiring to discern God's plan for me in a deeper, clearer, and more actionable way. I am leaning into the discipline of "Listening, Pondering, and Pursuing… and believe me this is not necessarily an easy task – especially the listening part!
So…recently while practicing in the "Listening" phase… this Christmas season has taken on a new awareness…are you ready for it? My new understanding…it's been there all along…the Christmas season IS the beginning of God's LARGEST, MOST LIFE CHANGING, promise!! It's the season in which what was promised from the very first book of the Bible comes alive! Every year we have the opportunity to REMEMBER that the Christmas season is the beginning of the fulfillment of God's PROMISE, to send to us a savior that would allow us to live in eternity with Him…the blameless, perfect sacrifice, the Immanuel "God With Us". Every YEAR we have the opportunity to REMEMBER, during this season (and beyond) that God's promises are never forgotten by Him, and neither are we. John 3:16 "For God so loved the world that he gave his one and only Son, that whoever believes in him shall not perish but have eternal life." comes to mind!
EVERY year we have the opportunity to REMEMBER, and act on that promise given over 2000 years ago.
What will YOU do with a Savior born in a manger?
What could I DO today (that's the "pursuing" part of Listening,
Pondering and Pursuing) to share the season with those near and far?
*Send a "smile" in the form of a card, text or email to someone that comes to mind.
*Go looking for that person who needs a hand with a project.
*Offer a kind word- that could be as close as the checkout person at the next place you stop.
Oh, the options are endless!
Here's one more reminder…I wrote this poem a few years back and bring it out each Christmas season it helps me to Listen, Ponder and Pursue!
And Christmas is near…

It is my hope as this Christmas draws near,
That the meaning for you becomes very clear.
It's more than the getting or even the giving.
It's here to remind us of a right way of living,
To remember the birth of a small baby boy,
Who was born not only to fill us with joy,
His humble beginnings, a gift to us all
As the bridge to our Holy God after man's fall.
And fallen we have to the darkest of pits
Yet, once again there's that light that's been lit,
Its radiance is offered for all to receive,
This is your choice, you can choose to believe
In a love, that forgives what you were in the past,
It forgets all those things, you have only to ask,
And repent, then to you a new life is able
To spring forth, now… due to the gift in the stable.
Written by Becky Ransome, 2014
May you each have a Blessed and Merry Christmas!